Während die Organisatoren und viele Kenner der Szene mit einem erfolgreichen Angriff des Ausnahmenläufers Kenenisa Bekele beim Standard Chartered Dubai Marathon am morgigen Freitag rechnen – Bekele selbst zeigte sich auf der Pressekonferenz am Mittwoch gleichfalls recht zuversichtlich – kommen vom Laufguru und Meistertrainer Renato Canova ganz andere Töne, die wir nicht vorenthalten wollen. In einer Mail an Alberto Stretti (siehe alberto-stretti bei twitter) sieht er kaum Aussichten für einen Weltrekord im Emirat und verweist auf Kenenisas Start in London. Renato ist ein Mann mit großer Expertise und seine Äußerungen sollten zu denken geben. Aber ganz sicher ist er sich mit seiner Prognose auch nicht …
Schon in weniger als 24 Stunden werden wir wissen, ob seine Bedenken gerechtfertigt waren. Für die noch junge Straßenlaufsaison 2017 gibt es in jedem Fall einen ersten grandiosen Höhepunkt.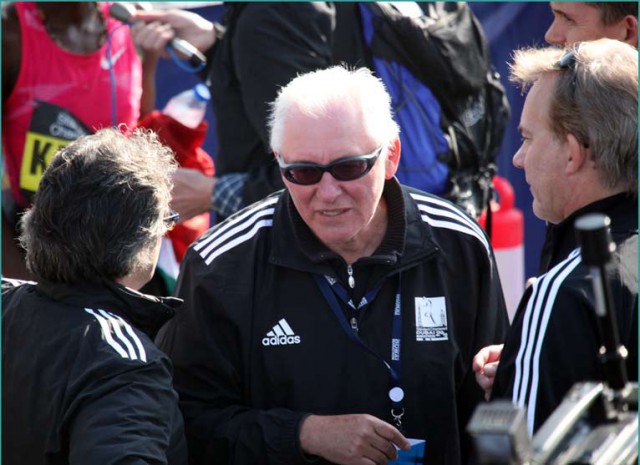 Laufguru Renato Canova beim Dubai Marathon 2012. (c) H. Winter
Alberto,
.
forget the worlds!! Of course all the stronger must be said at the time they want to run the world if selected, but this is absolutely not in the plans of Kenenisa (and it would be complete nonsense: what it can add to the career and image of Kenenisa a title in Marathon, if he had the world record and won London in April?). Like I said, before following him technically(now no more) when he still ran only on the track, I thought a mistake competing with such continuity, but when I knew him well, I had to accept the fact that this is the best solution for a phenomenon like him that: 1) if he does not have an enough close competition, he becomes lazy, he trains not so much, put on weight and then find it harder to find the shape ,and 2) he has a recover, both physical and nervous, absolutely amazing.
. .
The best solution is therefore to remain at 90% of shape throughout the season, competing often with no particular nervous tension, from which it is easier to get close to 100%. About Dubai, I really do not think it can attack the record. The idea was to run for a slightly shorter time to 2:04 ', as a "long-specific", and trying to London, which is for sure more difficult as course, but also more important as the image. But with Kenenisa you can never say ….